Create Payroll Stubs: Easy Way to Make Pay Check Stubs
One of the easiest ways to make pay check stubs in an instant is by using an online payroll software and payroll template. Choosing between the two will depend on your business needs and budget. If you're a small business owner that wants a more efficient way to create pay check stubs, then a payroll software would be for you. It has all the features you'll need to automate the pay check making process. However, if you want to save on costs, then you can always go for templates provided by Microsoft Excel or Google Sheets. To give you more insight as to what would be the best solution to creating pay stubs for your employees, we provide you the pros and cons of each.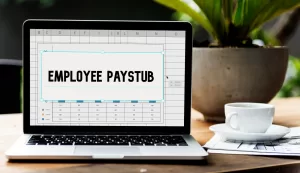 Online Payroll Software vs Payroll Templates: What's the Easiest?
Pros:
It's Free –

There's little to no cost when you use a payroll template. As mentioned before, you can use software, such as Microsoft Excel and Google Spreadsheet to do your employee's payroll. Both of which have pre-made templates ready for you to use. 

They're Customizable –

You can design the payroll template as you wish to make it more professional-looking. It gives you more free reign on how it should look. 

Easily Accessible –

Especially if you use Excel, you don't have to worry when you lose the Internet. You can access your records without it.
Cons:
Less Automation 

–

There are a lot of processes of creating a payroll which you would have to make yourself, which could be taxing if you're still not familiar with it.

High Risk of Calculation Errors –

As online payroll templates can't calculate taxes and deductions automatically, you might be more prone to errors when using it. 

Limited Features –

Payroll templates are essentially Office software, meaning it does not have the features you would need to make your work efficient, like a built-in calculator or the latest data on every state's taxes.
Pros:
User-friendly Interface

– Most payroll software is designed with an easy to use interface. This makes it possible for just about anyone to use the software, even if they don't have technical payroll experience. 

Automatic Calculations –

Experts in payroll have worked with developers on the software to make sure that the gross income and net pay comes out accurate for every pay check.

Compliant with Information Requirements –

In general, there are requirements every employer must comply with when making employee payroll, even if it's just for recordkeeping. Payroll software produces pay checks that are compliant with the

US Department of Labor's Fair Labor Standards Act

with regards to recordkeeping. 

Pre-Made Payroll Stub Designs

– You no longer have to worry about designing your employee paychecks to look professional. Most payroll software have pre-made

stub designs

for you to choose from.
Cons:
Cost –

Some payroll software will require you to pay should you need to use their app. However, some will only charge if you need to download a paycheck without a watermark, like PayCheck Stub Online and

Paystub Direct

.

Internet Connection Needed –

Unlike payroll templates, you may need Internet Connection to access the software. However, you can easily do it either on your mobile phone or computer.