CREATE A W-2 FORM INSTANTLY
Create fast, free, instantaneous W-2 Forms using our w-2 template.  Easily select W-2's if you need them to show your yearly earnings.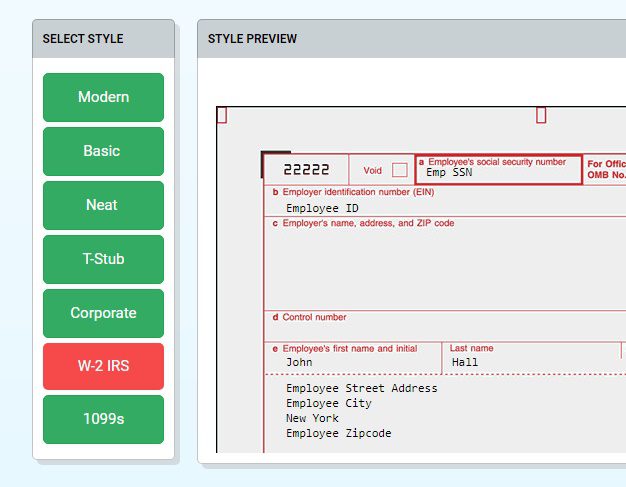 W-2 is your wage and tax statement from the IRS. It reports your income from a previous year and how much taxes your employer withheld on your behalf. The managers send their staff the W-2 forms in the first of the year.
If you've been working for a boss, you get your tax form and the IRS gets theirs as well.  
Here are some things to keep in mind:
If you've earned $600 and up during a year you ought to get a W-2 for that. Tipped employees may also get their W-2's if it totals that amount upwards
If you're a freelancer you may need 1099's same as contract workers and you won't necessarily be needing W-2's
Why do you need a w-2 form?
The purpose of filing a W-2 is to tally how much of your income went to taxes. These can include income taxes, social security and some of them can even include tips or medicare taxes.
If you're an entrepreneur, it's much better to get your W-2's in order anyway because you need to properly record your income.
And having a bona fide proof of income statement and W2's show your tax returns gives you the leverage in securing transactions such as loans, mortgages and other miscellaneous registrations which require you to show remittances with full transparency.
Here is our Sample W-2 template form, you can click the image
WHY USE OUR W-2 FORM GENERATOR?
SAMPLE W-2 TEMPLATE FORM, CREATE ONE FAST USING A CHECK STUB MAKER:

Our paystub generator allows you to generate this income tax form nearly instantaneously! And if you want to practice you can use our free watermarked preview!
Free pay stub generators online can help you expedite the creation of your W-2 statement
They give you access to your statements on hand without having to wait for paper processing
You can archive it much more easily by saving our fillable PDF on your email
You can retrieve your statement any time you want
You can print multiple copies of your W2 form
W2 statements can be kept indefinitely and you can always hide it in your email.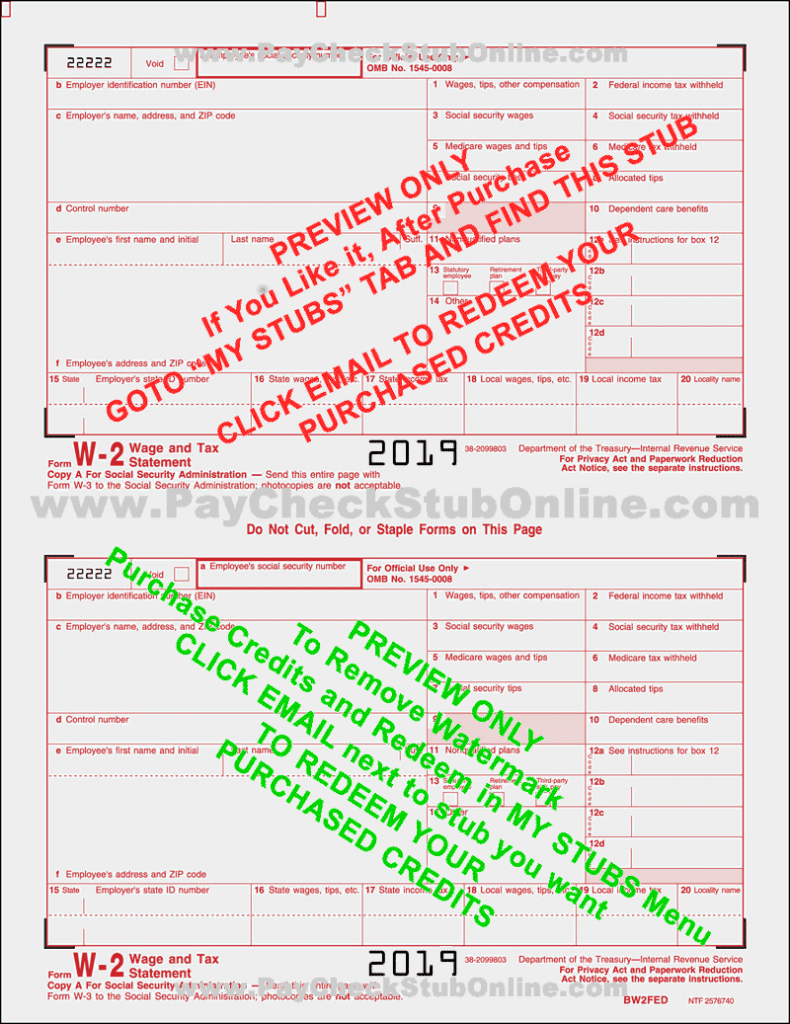 How much is the price of your W-2 generator?
We charge $7.95 for a single stub, or as low as 0.06 cents, when you buy the unlimited paystub package if you have to create check stubs on regular basis.
Check our pricing page for more information.
Is your W-2 form free to use?
Yes! It's free to use with watermarks. In fact, if you're still practicing by all means use our free pay stub generator to get familiar with filling up your W-2 forms.
Can I choose other Paystub formats not just a W-2?
In fact we have many paystub templates. W-2's are just one of the formats we've chosen because they'rve very useful and income taxes is something entrepreneurs often tackle.
Can I print my W-2 Forms?
Yes, you can print them and review them in case you want to make some changes. In fact, that's why our paystub maker tool is online because we want you to try it as many times as you like. Please make a purchase if you're happy with your chosen format.